Hey there, fellow road warriors and weekend adventurers! Have you ever found yourself in that all-too-familiar situation where your car battery decides to call it quits right when you're about to hit the road for an epic journey? It's like your trusty four-wheeled companion knows exactly when to throw a wrench in your plans, right?
Well, fear not, because today we're about to introduce you to a game-changer that goes by the name of NOCO GENIUS1, the 1A Smart Battery Charger. Yep, you heard that right, it's a genius in a compact package! Whether you're a daily commuter, a camping enthusiast, or just someone who wants to be prepared for any battery-related curveball life throws your way, the GENIUS1 is your knight in shining armor.
So, buckle up as we dive into the world of this intelligent charger and discover how it can keep your batteries juiced up and ready for action!
NOCO GENIUS1 Smart Battery Charger Review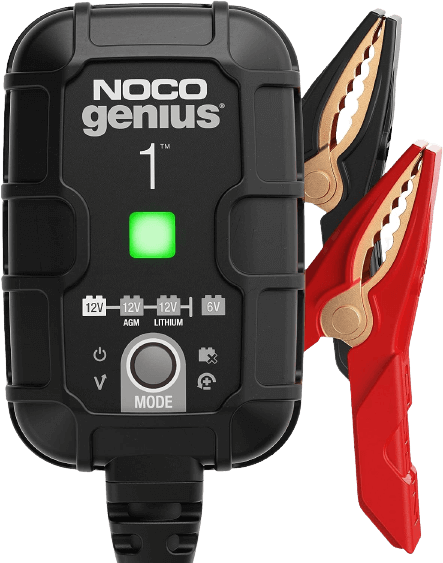 let's dive into the world of the NOCO GENIUS1 Charger. But before we get into the nitty-gritty of my personal experience with it, let's lay down the specs on the table (well, figuratively speaking):
Specification:
| | |
| --- | --- |
| Specification | Details |
| Brand | NOCO |
| Product Dimensions | 4.02″D x 3.43″W x 6.73″H |
| Battery Compatibility | 6V and 12V sealed lead-acid, gel, AGM, lithium-ion, and more |
| Operating Temperature Range | -4°F to 104°F (-20°C to 40°C) |
| Charging Modes | Battery charger, maintainer, trickle charger, float charger, desulfator |
| Precision Charging | Integrated digital thermal sensor adjusts charging based on ambient temperature |
| Minimum Voltage | Can charge batteries as low as 1-volt |
| Battery Restoration | Advanced repair mode for sulfated batteries |
| Vehicle Compatibility | Suitable for a wide range of vehicles and equipment |
Now, let's get personal. I recently got my hands on the NOCO GENIUS1 Charger, and let me tell you, it's been a game-changer for me. Here's why:
Detailed Review:
1. Compact and Powerful: The first thing that struck me was its size. This charger is 35% smaller than the previous model, making it incredibly portable and easy to store. But don't let its size fool you; it delivers a whopping 35% more power, ensuring a faster and more efficient charge.
2. Versatility at Its Best: The GENIUS1 is like a Swiss Army knife for batteries. It's compatible with a wide range of battery types, including sealed lead-acid, gel, AGM, lithium-ion, and more. Whether you've got a car, motorcycle, lawnmower, or even a boat, this charger has got you covered.
3. Smart Charging: The integrated digital thermal sensor is a game-changer. It detects the ambient temperature and adjusts the charging process accordingly. No more overcharging on hot summer days or undercharging in the cold. It's all about precision.
4. Revive Dead Batteries: One of the standout features is the ability to charge batteries as low as 1-volt. Plus, there's a force mode that lets you take control and manually charge batteries down to zero volts. This feature has saved me from countless dead battery emergencies.
5. Battery Restoration: The advanced battery repair mode is a lifesaver. It uses pulse reconditioner technology to detect battery sulfation and acid stratification, bringing tired batteries back to life. It means stronger engine starts and a longer battery lifespan.
6. More than Maintenance: It's not just a trickle charger; it's a fully-automatic, worry-free smart battery charger maintainer. You can leave it connected 24/7 without worrying about overcharging. It maintains your battery in top-notch condition.
7. Universal Compatibility: This charger isn't picky. It works with both gas and diesel vehicles, from cars and motorcycles to boats and RVs. If it's got a battery, GENIUS1 can handle it.
Now, let's weigh the pros and cons:
Pros
Compact and portable design.
Versatile compatibility with various battery types.
Smart charging technology for precision.
Ability to charge and revive extremely low-voltage batteries.
Advanced battery restoration mode.
Continuous maintenance without overcharging.
Wide range of vehicle compatibility.
Cons
Price might be slightly higher compared to basic chargers.
The force mode requires manual intervention, which some users may find inconvenient.
Conclusion
In conclusion, the NOCO GENIUS1 1A Smart Battery Charger has proven to be a reliable and versatile tool for maintaining and reviving a variety of batteries. Its precision charging, dead battery recovery, and compatibility with different battery types and vehicles make it a valuable addition to any garage. The minor learning curve and higher price are outweighed by its performance and convenience. If you're looking for a smart battery charger that does it all, the GENIUS1 is an excellent choice.
Buying Guide: NOCO GENIUS1 Smart Battery Charger
Welcome to the NOCO GENIUS1 Smart Battery Charger buying guide! As an expert in the field, I'm here to help you make an informed decision when selecting the perfect charger to meet your needs. The GENIUS1 is a fantastic device, but choosing the right one can be overwhelming with the myriad of options available. Let's simplify the process with this step-by-step guide:
Understand Your Battery Type:
– The GENIUS1 is versatile and compatible with various battery types, including sealed lead-acid, gel, AGM, SLA, VRLA, and lithium-ion. Before making a purchase, identify the type of battery you intend to charge. This ensures the charger is suitable for your specific needs.
Determine Battery Voltage:
– This charger is designed for both 6-volt and 12-volt batteries. Double-check your vehicle or equipment's battery voltage to ensure compatibility. It's crucial to match the charger's capacity with your battery's voltage for safe and efficient charging.
Consider Usage Frequency:
– Evaluate how frequently you'll be using the charger. If you plan on keeping it connected for extended periods, the GENIUS1's automatic maintenance features make it an excellent choice. For occasional use, it's still a reliable option.
Think About Temperature Variations:
– Take into account the temperature conditions in which you'll be using the charger. The GENIUS1 has a built-in thermal sensor that adjusts charging rates based on ambient temperature. If you live in an area with extreme weather, this feature is invaluable.
Assess Your Battery Health:
– If you frequently deal with dead or severely depleted batteries, the GENIUS1's dead battery charging and battery restoration modes are incredibly beneficial. Consider these features if you often face such situations.
Portability and Size:
– Think about where you'll use the charger. If you need a charger that's portable and easy to store, the GENIUS1's compact design is a significant advantage. It's 35% smaller than previous models, making it convenient for on-the-go use.
Budget Considerations:
– The GENIUS1 is a high-quality charger with advanced features. While it's an investment, its versatility and performance justify the price. Set a budget that aligns with your needs and the charger's capabilities.
8. Read User Reviews:
– Take the time to read user reviews and testimonials. Real-world experiences can provide valuable insights into the charger's performance, durability, and ease of use. Look for reviews from individuals with similar needs.
Warranty and Support:
– Check the manufacturer's warranty and customer support options. A reputable brand like NOCO typically offers warranties on their products. Knowing you have support if you encounter any issues can provide peace of mind.
Safety Features:
– The GENIUS1 is equipped with safety features such as overcharge protection and spark-proof technology. Ensure that the charger you choose has the necessary safety measures in place to protect your batteries and yourself.
FAQs
 Question: Can the GENIUS1 charger handle 24-volt batteries?
Answer: No, the GENIUS1 is designed for 6-volt and 12-volt batteries only. If you need to charge 24-volt batteries, consider other NOCO models with higher voltage compatibility.
Question: Is the GENIUS1 compatible with lithium-ion batteries only?
Answer: No, the GENIUS1 is compatible with various battery types, including sealed lead-acid, gel, AGM, SLA, VRLA, and lithium-ion batteries. It's versatile for different applications.
Question: What is the "force mode" mentioned in the product description?
Answer: The "force mode" allows you to manually initiate charging on a dead battery, even if it's completely drained down to zero volts. It's a useful feature for emergency situations.
Question: Can I leave the GENIUS1 charger connected to the battery continuously?
Answer: Yes, you can. The GENIUS1 functions as a battery maintainer and is safe to leave connected 24/7. It has built-in safeguards to prevent overcharging.
Question: Does the GENIUS1 come with a warranty?
Answer: Yes, NOCO offers a limited warranty on the GENIUS1 Smart Battery Charger. The duration of the warranty may vary, so it's essential to check the specific terms and conditions with the retailer or manufacturer.