We all know the importance of battery chargers and how they are like oxygen to many crucial appliances we use daily. From car engines to your camera, everything needs battery power to be up and running. While battery chargers are an everyday need, it is hard to find good ones these days.
If you have multiple things in your daily life that require a battery charger, then the Schumacher DSR131 battery charger is worth giving a shot. It is a powerful battery charger enough to breathe life into many vehicles and home appliances. It is a user-friendly charger that is undoubtedly worth every penny.
Amongst many features, people highly appreciate its LCD and push buttons controls. It is all you need to make your everyday life easier, and providing a battery pays off better than anything else. The intelligent circuit protection technology is probably one of its unique features protecting the battery from potential accidents.
You are at the right platform if you want an exceptional battery charger to provide you with more than just power. Here, we will dig deep into some of the Schumacher DSR131 battery charger's impeccable features and let you know why it is a great choice. Let's begin!
Why choose the Schumacher DSR131 battery charger?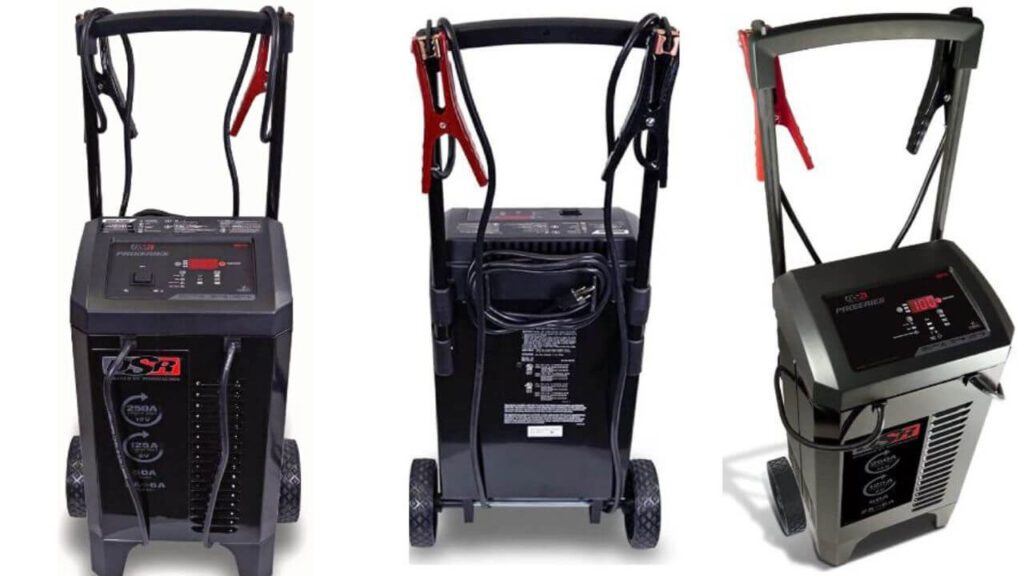 Schumacher battery chargers have been quite famous for a few years, reliable power delivery, and rugged chassis features. It has a smart charging technology that has not been previously explored by other brands providing added precision and battery-life protection. It has a short-circuit prevention technology which is great for extra safety and protection.
Why is it a great idea to invest in a Schumacher DSR131 battery charger? We will give you all the reasons why the battery charger is worth giving a shot. Read down below to know why exactly the battery charger is an apt choice for you:
●   Delivers Seamless Power
The Schumacher Battery Charger is great to deliver seamless power to multiple batteries. An AGM and the deep-cycle battery can be charged using the impeccable Schumacher DSR131 battery charger. It has reliable power, which can vary between 6 to 12 volts providing an insane amount of power even to run an SUV.
The battery charger provides a head-on start to the engine supplying enough power for up-market cars. People love the battery charger's hybrid construction as it makes it a valid choice that works for decades. The steel body and rugged exterior ensure the battery charger's longevity.
●    Boost Mode
Schumacher battery charger can effortlessly charge some deeply discharged batteries that need a power-up. It is a 250-amp peak power that works phenomenally for powerful cars. We love how microprocessor-controlled amperage will bring even the most lifeless battery to life.
One of the reasons why most people quite adore the Schumacher battery charger is because it brings even the low-power situation under control. It has an AA power battery that boosts even the deadliest battery back to life. Hence, you can undoubtedly count on the battery charger to provide high-quality and impeccable power.
●    LED Controls and Versatile Display
Not many battery chargers have a display where you can see to figure out settings. However, one of the specialties of the Schumacher battery chargers is that they have a clear LED display and push-button controls. The high-quality LED display helps determine the speed and other settings when charging.
One feature that makes the Schumacher Battery Charger a great choice is the auto-power turn-off feature. It helps in preventing the hazards when the battery is overcharged. If you forget to turn off the battery charger, the screen will display it immediately. On the other hand, the battery charger will shut off on its own altogether.
●    250A Voltage
Another powerful feature of the Schumacher battery charger is the voltage supply of the battery. It has 6V/12V battery power with 250/125 amperage, a powerful yet mild device to keep around the house. The battery charger comes in handy for many things, from powering a luxurious car to running appliances around the kitchen.
Another thing that makes the battery charger worth a shot is its steel body and injection-molded bottom. It has a hybrid construction that makes it run seamlessly over the years. The battery charger barely requires any maintenance and provides precision in charging.
Product Overview
The Schumacher DSR131 battery charger is one of the greatest investments as it is the strongest yet gentle device. It has a multi-charging technology that powers up the battery and provides seamless power to an object with a depleted battery. The microprocessor-controlled amperage adjustment works the best to prevent overcharging and potential damages.
One of the best things about the Schumacher battery charger is that it has an injection molded base, making it sturdy. It has reverse hookup protection, which helps in preventing overcharging that may cause shock. Even if you are not an expert at handling batteries or chargers, the Schumacher charger will be quite easy to control.
Key Specification 
| | |
| --- | --- |
| Brand | Schumacher |
| Voltage | 6V/12V |
| Battery-type | Gel, AGM, Standard, Deep-cycle |
| Display type | Digital display |
| Engine start | 250A/125A |
| Start-up voltage | 0.0V |
Features in Detail
●    Heavy-duty Exterior
One of the main things that make the Schumacher battery charger worth giving a shot is its heavy-duty exterior. It has a molded injection body which helps in keeping it heat-resistant. The rugged exterior is maintenance-free with a rugged chassis. The hybrid body makes it long-lasting and highly functional.
●    Microprocessor Controlled
Microprocessor-controlled amperage adjustment is a fantastic feature, making it better to control power rate. It has a chip inside, which is ideal for preventing overcharging and managing current. It does not require human intervention to control wattage.
●    Longer Output Cable
One of its phenomenal features is its ability to hold a 150-pound weight easily. It has a 12-feet cord, making it easier to power using the output cable. It has a great working efficiency which can easily charge heavy-duty cars. The output cables are removable, which comes in handy during maintenance.
●    6/12 Voltage
The Schumacher battery charger is a reliable power source with 6/12V and 250/215A. The power backup is great for igniting large engines and also household stuff. It is a powerful battery charger to own yet gentle enough to be handled by an amateur.
Pros
Hybrid construction
Multi-stage charging process
Reverse hookup protection
Reliable power
Conclusion
The Schumacher DSR131 battery charger is a great choice because it has enough power to ignite large engines. It is a heavy-duty charger yet gentle enough for beginners. You can easily handle the battery using the LCD and push buttons. If you are looking for a self-controlled powerful battery charger, Schumacher is great.